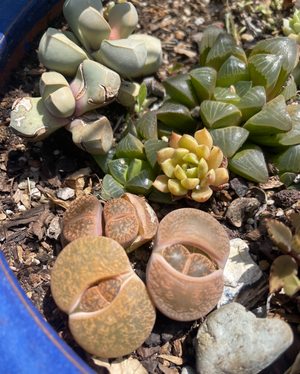 The butterflies and bees are out In force and the spring flowers are all blooming. I hope that the spring is sharing it's beauty with you wherever you are in the world as you read this. 
These past few months have been very trying as grieving is a mysterious and bewildering experience. My Ada's passed in December then Gbear the prince of felines, my Gingey boy of 15 years and light of my life crossed worlds last month. 
We all know that Death and life go hand in hand and yet there is no way to prepare for it. It never gets any easier to lose the ones you love the most. 
Despite my very real and very present grief I am very grateful that I still get to wake up and look out the windows and see the world, the beauty that is there to see if only you have the eyes for it. Some days I do and some days I do not. 
I am ever grateful for music and art or I'd be long gone myself. When everything else fails, music is there, Art is there so I can speak through it. Even if I trash it or destroy it, it doesn't matter so long as it's coming out in whatever form it can. 
I have been hesitant in writing in because I felt like no one wants to hear anyone else talk about Death or anything to do with it. We've been through a very tough couple years in that respect. I don't know anyone who hasn't lost someone to this horrid stupid pandemic in one way or another. Being that Death IS A PART OF LIFE I wonder why people refuse to discuss it or even think about it. That's the problem. We push it out of our minds as much as possible but in so doing, when it Death comes to our lives it destroys us utterly. It feels like it has done me at any rate. I know in time it will lessen, the pain will. I can't imagine not being able to use creativity to process. 
Wherever you are my friends, I hope that this Spring will bring beauty in many forms into your lives and that you will be able to experience it. Spring is magical. 
My Little Rock plants that I affectionately also call the "little bum plants" are also re creating themselves. 
And today I had the pleasure of seeing a newly born to this world teensy Weensy praying Mantis nymph! 
Many years ago now I bought a mantis nest and placed it carefully in the garden in a spot I knew would be safe from predators and it's wonderful to know that despite the drought, the fires, all the calamities that the Mantids are still around here. Shows that the garden is a healthy one. 
When I was younger I had a black thumb. I killed everything by either watering it ti death or the opposite.. I love too hard? Perhaps? Ya think? 
I worked at it though and now I'm much better and am quite proficient at helping things to grow in the garden.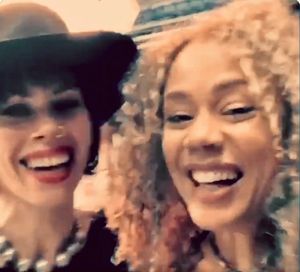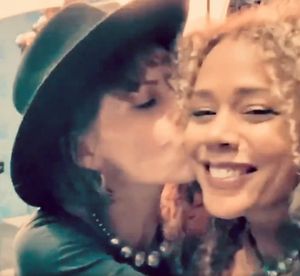 On a very different note, I have some very exciting news, Rachel True my old pal and I are going to do a podcast together! We thought that might be fun to do. She is such a sweet, funny, cool person and has been such a good friend to me especially through all of the losses of the past few years. She has done podcasts previously but I never have, so thankfully she knows more about what goes into making a podcast than yours truly. We are in the process of deciding what the topics will be now. We may be doing some Q& A's as well so that will be cool. I'm really looking forward to it actually. Love that gal. She makes me laugh till I ache. 
My Patreon is very close to being ready! If you've ever been curious about me, my life, my work, Art, music, process then you're going to dig the Patreon. Being an Artist is my life's work. It's all I've ever known. I've spent the past two years being a care giver to my Dad and to my partner who is suffering from Acute Long Covid syndrome. If I had a normal job I would not have been able to be a care giver. It's because of your support of me as an independent artist that I have been able to both continue as an Artist and also be a care giver. I know there's a lot of information in this blog. I am in a very open place. Why not be open about life? I've never been one to hop on the conveyor belt of competition in regards to any of the Art forms I do for a living. What's the point? There are all these "rules" when you're an actor, or there have been I should say. Things have changed a ton recently. Long story short, being in any way " open" about your life and / or your creative process is a big no no. 
I for one am glad that's changing. I follow my gut. That is MY rule. I trust my instincts above all else. They are telling me that this is the right time and that is all. I need to move forward. 
I'm going to be making some new merchandise that I think you guys will love (I hope you will anyway) Also I will be making video requests available through the Patreon so it won't be nearly as expensive as Cameo has been. I really like making videos for people and knowing it cheers them up or hopefully helps to put a smile on their face. So many of us are enduring life changing challenges right now. We have to support each other and do whatever we can. 
People are surprised I think that I can be such a goof ball. Hey, you've got to laugh right? This life, if you can't laugh at yourself then good luck! 
When I make a Video for a person I don't just blabber for 2 seconds then say goodbye. I make them very personal because, well, why not? I have received so much love and light and support from fans that it's the least I can do I reckon. I make them as special and as personal as I can. Thank you to everyone who has requested a video. ♥️ 
I'm glad to be able to share more music too, play songs you lot have yet to hear. It will inspire me to make more Art, write more music and focus in more on creating. Which I really do need. It keeps me breathing and moving forward and maintains the inflow of light. 
Many of you have known me since I was a little girl and grew up with me so it feels like we're friends in many ways. 
I will keep you updated as to the progress of the new endeavours and I hope you are well, I hope you are healthy and I send you all of my love 
Xoxo 
F