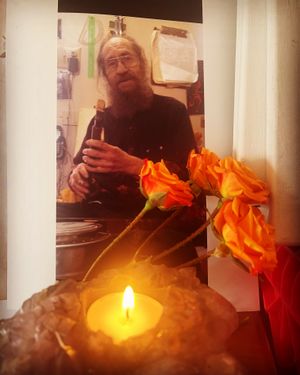 Hello my friends. 
I wanted to reach out to all of you and send you my love, Thanks, light and best wishes for your holidays this year. For many of us who have suffered the loss of our loved ones, this Christmas is very bittersweet. My Father left this world the night of the 12th of December. My heart is grieving and I miss him terribly. 
The whole point of Yule in its early form was a celebration of the solstice but also served as a way for people to get together and remind each other that although this is the darkest time of the year that the light will return. We light our candles, decorate our trees and we remember all of the lovely holidays we have had in the past. I'm trying to keep all those wonderful memories at the forefront of my mind. I have been so blessed to have good loving people in my life and that includes all of you who have loved and supported me so very much. 
Some of you knew my Father and knew what an incredible, brilliant, funny, quirky and immeasurably talented person he was. He is free now, free to be in the light, in pure love and joy. We love you Papa. 
I raise a glass of bubbly to you my friends, my family, and to those who have moved on. 
I hope you will eat well, rest well, and if you are alone this Christmas, maybe, pick up the phone, call someone you love and wish them a merry Christmas. We all need to be reminded from time to time that we're loved especially at this time of the year. Thank you to all who got Cameo messages, I hope you enjoyed them and that they made you smile. 
Bright blessings my dears, 
Much love and happy Holidays 
Xoxo 
F